hours

Contact us

Vehicle tips
who we are
Avenue Tire & Service Offers Auto Repair Services You Can Count On!
Since 1984, Avenue Tire & Service has provided motorists in the Ludington, MI 49431 area with comprehensive auto repair services that include General Services, Car & Truck Care, Undercar Services, Alignment, Brakes, Tires, Engine & Transmission, Engine Maintenance, Transmission Services, Heating and Cooling Services, Electrical Services, Electronic Services, Miscellaneous Services, Domestic Cars & Trucks, Import Cars & Trucks and Quick Lube Services. Our goal is to offer the best services available at affordable prices to get you back on the road in no time.

You'll be hard-pressed to find the same level of expertise that our auto mechanic specialists provide! We have years of experience working on both domestic and import vehicles of all makes and models and can work with you to find cost-effective repair and maintenance alternatives.

For a high-performing vehicle, trust Avenue Tire & Service with your car, truck, or van. To learn more about the services we offer, please contact us by phone at 231-843-3414 or send us an email. We also invite you to learn more about our dedication to you, our valued customer.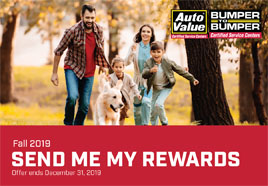 Avenue Tire & Service
5797 West US 10
Ludington, MI 49431
8:00AM - 5:00PM
8:00AM - 5:00PM
8:00AM - 5:00PM
8:00AM - 5:00PM
8:00AM - 5:00PM
8:00AM - 2:00PM
Closed

Manistee Closed On
Saturday and Sunday
Testimonials
Polite, willing to explain all aspects of the work done.
-Diana B.

I am very happy with my service here. What ever problem I have with my vehicle John or Johnny always seem to know the problem and will explain the repairs that I need. Also they can tell me of upcoming possible repairs that I may need. They are very patient with their customers and they go the extra mile. Hard to find good service like that. I recommend this local shop to anyone.
-Ron G.

I love my oil change guys. Always friendly and helpful. We are moving out of state in the next couple of weeks and I will miss seeing those guys every now and then. Thanks for such great service both in the oil change area and any time we have had our cars serviced there.
-Cheri K.

Service is always great at this local shop. They will always tell you if you can wait for the repair or if it is an immediate need.
-Anonymous

Did the work I had scheduled and were very helpful with the unforeseen. They made every effort to keep the work on budget.
-Anonymous

I had another satisfactory visit to my favorite auto repair shop and will return for more work rather than taking my vehicle to the dealer.
-Rod M.

Service is one of the best I have ever dealt with. The people were great to work with they did an excellent job.
-Cliff B.

I always feel like the employees treat me like a valued customer and almost like "family".
-Sharon S.

The young gentlemen that serviced my car was extremely nice and polite. He seemed to do a super job in a very timely fashion.
-Pat M.

The folks at Ludington Avenue Tire & Service were helpful and professional. They helped me find a new tire at a good price, and even helped me with the warranty on my flat. Great job.
-James S.

The Ludington Avenue Tire & Service shop has maintained my 15 year old 170,000 mile Ford for the last 6 years. This appointment was a great example of their trusted service: I thought I had transmission issues and had asked for a flush and screen change at $170. They test drove the vehicle and found the engine was miss firing and cancelled the transmission work, Made time for hood lock repair and an oil change. All well performed and reasonably priced. I can't recommend this location any higher!
-Larry R.

Great people that do their job well!
-Rich K.

Quick, great service! Thank you as always.
-Anonymous

When I unexpectedly needed more work than originally planned, Johnny offered me a loaner car to run my errands. When my errands were complete, I came in & waited. That young man handled quite a barrage of questions, phone calls & customers with great professionalism, courtesy, knowledge & the ever present smile! Good Job Johnny!!!
-Mary & Dan M.

Very satisfied with the service I receive at Avenue Tire & Service. If I wasn't satisfied I feel comfortable with talking with them and coming to an equal agreement.
-Ron G.

Thanks for fixing my 2002 Ford F-150. It had a blown #2 spark plug in January. You fixed it quicker than first estimated and more importantly, a lot less money than quoted. I will still be your most loyal customer for future trouble and repairs, keep up the good work!
-Gary P.

Always friendly, informative, and helpful.
-Sharon S.

I was very pleased with the service that was provided to repair my car.
-Emmet R.

They replaced my exhaust system on a Saturday, same day service. Great work, great price.
-Bruce D.

In and out promptly. Service was good and workmen friendly and attentive.
-Dean - Pentwater

...I wasn't just pleased...I was impressed.
-Nick - Ludington

...Excellent assistance and I would gladly recommend this facility to others.
-Cynthia - Hart